HOME


FORUM


toa BLOG


CAMBODIA


Overland


FAQ


THAILAND


CHINA


VIETNAM


MYANMAR


INDONESIA


EAST TIMOR


MALAYSIA


SINGAPORE


BHUTAN


AFGHANISTAN


PAKISTAN


AUSTRALIA


PHOTOGRAPHY


READERS' SUBS


BUSINESS/JOBS


ADVERTISING


ABOUT ToA


LISTINGS


CONTACT

rooms & food
Siem Reap
click image for more information
Writers Wanted: Please click here for more information.
CAMBODIA
The talesofasia guide to travel in Siem Reap and Angkor: The most comprehensive guide to Siem Reap and Angkor on the web.
-ACCOMMODATION
-EATING AND DRINKING
-TRANSPORT - TO/FROM/AROUND
-TEMPLES
-AND MUCH MORE: FULL CONTENTS
Updated May 19, 2011
NEW!
Readers' Submissions
February 10, 2011
INDIA
Mother Ganges by David Korn
February 5, 2011
INDONESIA
Beating the Jakarta Floods by Mark Medley
February 3, 2011
UZBEKISTAN
Desert Search by Tom Coote
February 2, 2011
MYANMAR
Five Tips for Myanmar by Charlotte Baird
VIETNAM
Adventures in Vietnam Banking by Antonio Graceffo
January 24, 2011
THAILAND
Passion, Cockfighting, and Morality by Dave Lather
NORTH KOREA/CHINA
In Search of the Diamond Mountains by Tessa Morris-Suzuki
-------------------------
Index to the old Blog and Cambodia Update Aug 2001 - Sept 2007
BHUTAN
January 11, 2007
the toa Quick Quide to Bhutan
By Tim Patterson
Cambodia FAQ
Completely updated. 152 frequently and not so frequently asked questions and answers about Cambodia. Visas, corruption, food, transportation, safety, health, socializing, photography, and much more. Updated May 17, 2010
CAMBODIA
The talesofasia guide to travel in Sihanoukville and the South Coast: Where to stay, what to do, how to get around, and much more. Completely revised! September 8, 2006.
Added October 12, 2006: Revised section on Kampot.
CAMBODIA
October 12, 2006
Phnom Penh Perspective
Sage and Spirit. By Bronwyn Sloan
THAILAND
May 25, 2006
Tezza's Thai Islands and Beaches Travel Bits
Koh Chang (Andaman)
Koh Jum
Koh Ngai
Koh Pha-Ngan
Koh Phi Phi
Koh Tao
Krabi / Railey
THAILAND
February 24, 2006
Visa Overstay
Minor fine or major nightmare?
INDONESIA
November 22, 2005
The talesofasia guide to Indonesia Just added: sections on Bali, Yogyakarta, and Jakarta. Also includes sections on Flores, West Timor, Sumbawa and Lombok.
EAST TIMOR
November 12, 2005
The talesofasia guide to East Timor debuts with a section on Dili and overland to West Timor.
THAILAND
September 24, 2005
Safety
A few things you might not have thought about... especially for the guys.
THAILAND
April 29, 2005
Getting Around
Famous scams on rail and private "VIP" bus transport. Read this before taking the train or purchasing a bus ticket from ANY travel agent on or off Khao San Road to ANY location in or beyond Thailand.
CAMBODIA
The talesofasia guide to Phnom Penh The most comprehensive guide to Phnom Penh on the web. Things to do, places to stay, where to eat and drink, and much much more. Written by resident Bronwyn Sloan. Updated October 6, 2004
AUSTRALIA
The talesofasia guide to Sydney: Getting there, getting around, places to drink and much more.
Updated August 23, 2005
Business and employment opportunities, real estate in Cambodia: Listings of businesses for sale, investment opportunities, jobs, and real estate. Updated September 29, 2007
The talesofasia guide to the toilets of Asia
Let's face it, if you're traveling for more than a couple of hours you're going to need to use a toilet. Where are the cleanest? What's the best place to run to in an emergency? Do I have to use my hand? What's the deal with squat toilets? What can I expect in Thailand? How about China? Updated January 13, 2009
About Tales of Asia
Who am I? Why are you reading this? Why the adverts? Can you buy me a beer?
Advertising
Advertise your business on talesofasia.
Guesthouses, restaurants, tours and more
Cambodia businesses to serve your every need.
--------------------------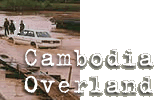 Everything you ever wanted to know and few more things you hadn't thought about if planning overland travel between Cambodia and its neighbors, with special emphasis on travel between Siem Reap and Poipet. Updated May 11, 2010. Travelers' Reports updated February 3, 2011. Take a look.
Like what we're doing here?

Guesthouse - Siem Reap, Cambodia
click image for more information
"A fun, fast-growing website of tips and cautionary stories compiled by an old Cambodia hand." - Time Magazine (Asia), May 19, 2003
--------------------------
Want to help stop the illegal trade of Khmer artifacts? Sign the petition to encourage the Thai and Singapore governments to sign the 1970 UNESCO convention on heritage protection. Link is here: http://www.heritagewatch.org/petition.php
--------------------------
Cambodia
Travel news, social commentary, soapbox editorializing, travelogues, overland info, FAQs, and much much more.
China
Walking the streets of modern Shanghai, trekking Tiger Leaping Gorge, washed out at Simitai, prayer flags in Deqin. China tales. And lots of them.
Thailand
Impressions of Northern Thailand - Mae Hong Son, Pai, Padaung "longneck" villages. Bangkok's snake farm. Hua Hin/Prachuap. Monthly update.
Myanmar
Three weeks of travel - the cities: Yangon and Mandalay, the temples of Bagan, and exploring the wonders of Shan State: Hsipaw, Inle Lake, Kalaw.
Vietnam
Saigon, Mekong Delta, Dalat, and Nha Trang, take a vicarious trip through the south of Vietnam.
Indonesia
New section with guides to Jakarta, Bali, Lombok, Sumbawa, West Timor and Flores.
Malaysia
Quick impressions of four major tourist areas: Langkawi, Penang, Perhentians, and Kuala Lumpur.
Singapore
One weekend in Singapore. Not exactly one night in Bangkok.
East Timor
New section with details on Dili and travel out to West Timor.
Afghanistan
The food sucks, the country is a mess, but the people are great. Read about my May 2003 Afghan adventures and learn a bit more about a country that regrettably, the world seems to have forgotten.
Pakistan
A brief snapshot of Pakistan in May 2003. Islamabad, Peshawar, and Lahore.
Australia
It's not Asia, but it's the same side of the world...
--------------------------
Have something to say? A story to tell? A grievance to vent? Let's face it, readers to this site get one view point and one view point only. Mine. While readers have been most generous with overland travel reports, why stop there? Travel, culture, politics, social issues! Speak your mind to a wide audience! See it here for the world to read! Anything relevant to Asia! e-mail me.
April 25, 2007
The toa News Feed